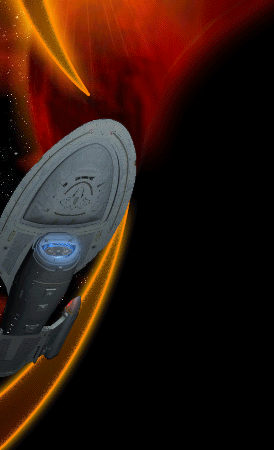 December 26th, 2002
Star Trek Dragon has now completely moved to the new site!
so long, Tripod!
October 4th, 2002
Jon Wasik
--------------------------------
Yeah, forgot that I was going to tell everyone here
when the other website became an update site for
progress. Well, it is :)
July 22nd, 2002
Jon Wasik
--------------------------------
Well, the last official update to this old website is now
online. That's right, the Season 4 finale, Race to Live,
is online and ready for viewing! I apologize for the lateness
but it couldn't be helped. To make up for this, I've put
up a preview for the Season 5 premier. Although it will
be a long while before this will be online, I thought I
might put it up any way :)
The next news that will be seen here will be when I
turn the new web site into an updates site, giving updates
about the work in progress for Season 5. Until then,
enjoy! And thanks everyone for four successful seasons!
July 19th, 2002
Jon Wasik
--------------------------------
I know, I know, this update was supposed to include the
S4 finale, but things came up and I couldn't finish the
images! But soon, I promise! Just have patience! :)
July 3rd, 2002
Jon Wasik
--------------------------------
I've finished writing the S4 finale. Now I'm in the process
of creating images for it. I'm guessing that, unless
something goes wrong or gets in the way, I'll be finished
and it'll be posted in a week, no more than two weeks.
Until then, see ya out there!
I will say one thing about this finale, though...it turned
out better than I had hoped it would. So I'm guessing
that you'll all enjoy it :) So stay tuned! ;)
June 22nd, 2002
Jon Wasik
--------------------------------
Well, Star Trek Dragon now has an official home on
the web beyond a tripod sub-domain. That's right, it has
been registered, and there is a new website. However
it won't be in full use until Season 5, but I've got the
details there, so check it out! :)
I've also updated my autobiography, changed much of
it, added a section. If you feel like reading about my
boring life, check it out :)
Still no news for the S4 finale except that I intend to
write a lot the next few days cause I have off from work.
So hopefully, not too much longer, I hope, unless
something comes up.
June 13th, 2002
Jon Wasik
--------------------------------
After some problems with Tripod, I've had to fix some
problems with the website. Now that I've fixed it all,
I'll begin working on the season finale again. I still have
no idea when I'll finish the episode, but I'll try to keep
you all posted. :)
As a note of what's the status of the site, I've had to
create a back-up website for all S4 episodes, which
means there will be banner ads at the top of every page
for all S4 episodes. I apologize, this is just a temporary
solution until I can find a more permanent one.

May 2nd, 2002
Jon Wasik
--------------------------------
Well, the next episode is online! Quite an important one
at that. Any way, hope you enjoy!

As a note, it may be a while before I finish the next
episode, the season finale, for multiple reasons. However
I will keep you all posted, so check by the news here
every now and then! :)

April 29th, 2002
Jon Wasik
--------------------------------
I've made a lot of progress on the next episode, and
actually have finished writing. All that's left now is
proofreading it and making the images. That'll take a
short while, but it shouldn't be too much longer now.

I'm taking a trip with my choir to Denver this weekend
so I doubt that it'll be ready till after then. But don't
worry, soon! :)

April 24th, 2002
Jon Wasik
--------------------------------
Well, an historic event occured yesterday, or the day
before, I'm not quite positive which (not enough time
and I'm too lazy to figure out exactly,) STDragon hit
10,000 visitors! Thanks all for your 3 and a half years
of reading and patience! It's been fun thus far!

As for the next episode, I'm not positive on it's release
day, though it looks like it won't be this month, like I
had planned on. I'm still writing it, let alone proofreading
and making images for it. So keep an eye on the site
and I'll let ya know as soon as I can!