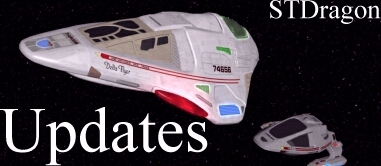 7/3/2001
Well, Project Unity is now launching with two stories, mine included! So you can now read STDragon's "Freedom's Price" in the episode's section! Plus at the end of it is a link to the Unity Nexus, where you will be able to read OTHER great Unity stories!
This may very well be the last update before Season 4. I can tell you that in probably a week or two, I'll have a preview picture for S4 online. The type of graphic design you see on that will be seen through out ALL of the S4 layout...only it'll be better! So see you in a couple weeks!
6/11/2001
I've put up a preview for STDragon's next episode, the third special presentation of STDragon titled "Freedom's Price." Not to mention I posted a preview picture on the index page of STDragon using Ed Gidding's new Sovereign class mesh :o)
For those of you who don't know, Project Unity is a massive crossover of several Star Trek fan fictions. Star Trek Dragon has the honor and pleasure of starting the whole crossover with this one episode. For more informaton, visit the Unity Nexus by clicking on the image below.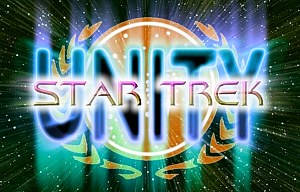 6/4/2001
I've finally finished the Season 3 finale of STDragon and have put it up! This episode has 7 images occompanying it as well as a commentary in the specials section and the lyrics to "That Lonesome Road" for all to read. I'd say that I hope you have enjoyed your stay in Season 3...but it isn't over yet. There's on more episode that'll be added to the Special Episodes soon enough...
5/21/2001
The preview for the Season 3 finale is now online on the main page! Check it out! This episode is already coming along fairly quickly. It's going to be long, but worth it. Furthermore, I'm planning to include images in this one, so it should turn out to be an exciting finale!
5/19/2001
The next episode, titled Scylla and Charybdis, is now online! Wondering why I named it that? You'll have to read the episode to find out, heh. Thanks to Joe Manno for the title suggestion, as well as the little info bit on it's meaning so that I could integrate it into my story!
Also, uploaded a simple preview picture for the Season 3 finale on the first page of STDragon (otherwise known as the index.htm page, or the first one you see when you enter STDragon.)
5/11/2001
A preview for the next episode of STDragon is on the main page...any one have any suggestions for a title?
4/16/2001
The next episode, "A Long Time Ago..." is now online! Despite what the preview for it says...there's a lot more to this episode than just an old enemy showing up in the Kalium Galaxy.
Furthermore, a new section can be found in the Special's Section which comments on just why this episode was so special! However, it contains spoilers, so first read the new episode! :o)
4/13/2001
A preview for STDragon's next episode, "A Long Time Ago..." is now online! So go check it out!
Also, a new section dealing with how the characters of STDragon came to be can now be found in the Specials section...so go check it out! :o)
3/27/2001
Finally, after a long delay, the next episode of STDragon is now online! Episode 27 took a while to write, but I think it'll have been worth it. What do you think? I'm still waiting to hear more feedback from more people! Heh.
Furthermore, I've already started writing Episode 28, and I can garuntee that it won't take nearly as long to get finished. I'm thoroughly enjoying writing this episode, so I can't even put it down! Heh. You'll all find out why, too, once it's out :o)
3/6/2001
No major update, just letting everyone know that the preview for the next episode of STDragon, called "To Have Loved and Lost" is now on the main page. So go back whence you came to read the preview! heh. I found it difficult to hype the episode in that preview, so I can tell you here that it will definitely be one of the most moving episodes you'll find in Dragon...even though it'll manage a good deal of action :o)
3/3/2001
Finally, after a weeks delay, the rewritten version of Episode 1 - Ghost Ship is now online! It is a definite must-read for all! Further more, this is only the first of several rewrites! Specifically, the entire first season will be rewritten by the end of this upcoming summer! So stay tuned! :o)
2/17/2001
As a result of the feedback I've recieved, and the sheer magnitude of the events in STDragon's latest episode "What We Leave Behind," I've opened a section in the 'Specials' section of the site that gives commentary on the whys and the like for the episode.
2/10/2001
Ok, ok...so it's been over a month. But the highly anticipated episode titled "What We Leave Behind" is NOW ONLINE! So go read it!
Also, if you are the 4000th visitor to this website, please email me and let me know at jonwasik@yahoo.com. If you can get a screenshot of this fact, that would be great, but it is not necessary!
1/4/2001
A nice teaser of STDragon's upcoming major event can be found on the main page. This is one episode that will change the very course of the series!
12/31/2000
Just in time for the new year, Star Trek Dragon's Emancipation, Part II is now online!
12/22/2000
Just a day after the first preview of STDragon's newest upcoming episode, IT'S HERE!
But this is just the first part. Soon, you can expect the second part, so watch this space!
12/21/2000
Just a preview for STDragon's greatest episode yet! Heh. Thankfully, it seems I'm keeping in tradition of Dragon's 2+ year tradition of each episode being better written than the last...well, OK, that's my opinion, any way. I just hope you agree when you read this next episode!
12/2/2000
The next episode for Season 3 is FINALLY here!!!!! That's right, finally given the name Paradise Storm, this is another episode that has surpassed most other Star Trek Dragon episodes! In my opinion, it doesn't beat Future's Savior, but it is up there with it in quality!
Watch for the next episode, which will hopefully be released by the end of December or beginning of January!
11/17/2000
A preview for the next episode in line for STDragon has been put up on the main page!
Also, just FYI stuff, I've planned out every single episode for S3. I've been coming up with ideas for S3 since Dragon's beginning. Finally, I've put it all down on paper. Unfortunately, I didn't have room for one or two ideas, but still, S3 is going to be filled with 8 episodes of action and character development! This is a new level of Dragon!!
10/29/2000
Star Trek Dragon - Season 3 has launched!!!!!!!! Every single section has been updated, and a lot of them have just been completely redone! Included in the new and improved Dragon:
CGI images made by myself, Jon Wasik, are on almost every page for your viewing pleasure!
New, far more detailed crew bios!
Extra information has been added to all sections of the Ship Info area!
New links in the Links section!
Full credits that also trace STDragon's evolution and who helped!
A brand new section called "Specials" where, eventually, you'll be able to read all sorts of new goodies! In there now is a new bio about myself as well as credits for all CGI meshes used on this site!
And, OF COURSE, the latest episode of STDragon, the Season 3 premier, Future's Savior! Thirty pages long, you won't regret reading this episode for one nano-second! Greatly improved writing style from last season!
Over all, this is going to be one magnificant season that I hope you ALL enjoy! Things only get better from here!