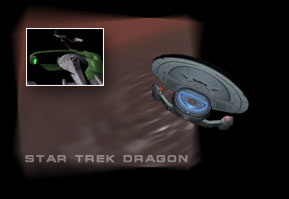 Welcome to the Episodes section of Star Trek Dragon.

ST Dragon has spanned 4 seasons, over 30 episodes of excitement. So join the crew of the USS Dragon on their many journeys. We will hook you at the first episode and keep you hooked for many more.

As you can see above there are a few options to decide from on the left hand side.
Preview [Offline] is a teaser of what the next exciting episode of Dragon will be like, occasionally a picture or 2 may come with it.
Season One, Every Journey has its Beginning this is the Dragons. Join the Crew during their First season.
Season Two, spanning a total of 17 adventures with the Valiant crew of the USS Dragon.
Season Three, The crew lost in space, join them on their journeys.
Season Four, Current Season, read the latest episodes of the crew of the USS Dragon.
Special, Episodes that are written in either connection with another series or out of context of the existing season.